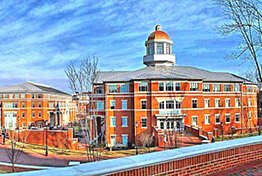 University and Huntersville are two interesting areas of Charlotte always worth getting to know.
As its name implies, the University area is the center of education in Charlotte. Home of the UNC Charlotte and approximately 122,800 residents, University possesses a youthful vigor and frenetic energy often associated with college towns. The University area is also home to an eclectic mix of dining establishments and specialty boutiques that cater to the neighborhood's academic crowd.
Huntersville, on the other hand, is a suburban haven located minutes north of Charlotte. Once an old railroad depot, Huntersville has been transformed into a popular live-work community. There are plenty of smaller neighborhoods located in Huntersville that offer a variety of real estate options for home buyers from different backgrounds. This fast-growing town in North Mecklenburg is home to approximately 67,740 people.
University, NC and Huntersville, NC Real Estate
University
Due to the nature of the neighborhood, the University area offers low-maintenance real estate options for the young undergrad or masters' student. Single-family homes, condominiums, and townhouses are common housing options that suit a wide-range of budgets.
There are also several new home developments in the area that can cater well to other types of home buyers, such as young professionals as well as families. The University area is perfect among home buyers who want access to the best of Charlotte academic and business opportunities.
Huntersville
Thanks to its close proximity to Charlotte, Huntersville is a popular option for home buyers who want easy access to the wealth of opportunities the city brings but want suburban tranquility. As the population increases, Huntersville's real estate market is trying to keep up with the housing demand. There is a wide variety of housing options to choose from, such as staple single-family homes, townhouses, and apartments. Huntersville also has a lovely collection of waterfront homes, as the town sits along a portion of Lake Norman's shores.
Communities in Huntersville include Birkdale Village, The Hamptons, Wynfield Forest, Plum Creek, and Monteith Park.
Huntersville is particularly attractive towards young professionals and newcomers looking to introduce and relocate themselves to the wonders of Charlotte, North Carolina.
Attractions
UNC Charlotte Botanical Gardens– Located in University City Blvd, UNC Charlotte's public botanical gardens is home to an assortment of plants, from common to rare finds like the Titan arum, a massive flowering plant whose bloom can have a circumference of more than three meters. The Titan arum can also tower at three meters high, and perhaps even more. Its blooming habits are unpredictable, making guests who chance upon its flower especially lucky.
Lake Norman –Lake Normal is a man-made lake with approximately 520 miles of shoreline. The prime recreation spot in Huntersville, residents and tourists head to Lake Norman for a day spent amid rich culture, art, and history. Lake Norman is home to upscale shopping, a plethora of water activities, NASCAR, and even year-round golfing.
Charlotte Motor Speedway – Formerly known as Lowe's Motor Speedway, CMS is a popular motorsports complex that features events like the Camping World Truck Series racing, XFINITY, and the NASCAR Sprint Cup. Charlotte Motor Speedway offers plenty of adrenaline-inducing events, whether down in the tracks or up with the audience.
---
Homes for Sale in Huntersville, Davidson and Cornelius, NC
Sorry we are experiencing system issues. Please try again.