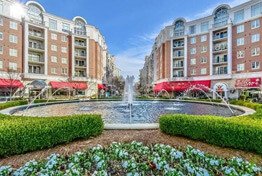 Occupying most of south Charlotte, SouthPark is an edge city that is home to approximately 74,290 residents. It's a sprawling district – in fact, it is one of the biggest in Mecklenburg County. It serves as one of Charlotte's biggest business districts, and got it names from SouthPark Mall, a well-known shopping center in the area.
Because of the plethora of business opportunities it presents, SouthPark draws plenty of home buyers who would like to move up the career ladder in the city. Several Fortune 500 companies have made SouthPark their home, including Maersk, National Gypsum, and Coca-Cola.
Of course, it's not always about business in SouthPark. The district is home to a myriad shopping, dining, and entertainment establishments that will make Jack far from a dull boy. SouthPark is often considered as the premier shopping destination in Charlotte, offering topnotch selections at SouthPark Mall and Phillips Place, among others. Just imagine the crowds SouthPark draws every Black Friday weekend!
To top everything with a flourish, SouthPark is also home to some of the most valued neighborhoods in Charlotte.
SouthPark, Charlotte, NC Real Estate
SouthPark is composed of smaller neighborhoods, most of which are established residential areas. Within this subdivisions are older, Ranch-style homes built sometime between the 1970s and the 1980s. It's not uncommon to find single-family homes in SouthPark that are built on larger properties.
Throughout the district are apartments, townhouses, condos, and mixed-use developments as well. Newer constructions have also popped up across SouthPark. Residential centers in particular are quite popular among young professionals as well as families that are just starting out. Architectural styles are varied, from signature Ranch-style to Craftsmen Bungalows, which are common in Charlotte.
SouthPark – Charlotte, NC Neighborhoods
Neighborhoods in SouthPark include Foxcroft, Montibello, Stonecroft, Beverly Woods, Barclay Downs, and Quail Hollow. Beverly Woods and Barclay Downs are known for their collection of 1950s Ranch homes, while Carmel Park, Quail Hollow, and Foxcroft offer newer multi-million dollar estates in the city.
Attractions
SouthPark Mall– SouthPark's famous namesake, the SouthPark Mall, is an upscale, climate-controlled indoor mall in Charlotte. Located near Sharon and Fairview Roads, the shopping center plays host to an array of high-end brands such as Louis Vuitton, Hermes, Tiffany & Co, Tory Burch, and Lilly Pulitzer. Aside from world-class shopping, SouthPark Mall is home to several restaurants such as Cheesecake Factory.
Charlotte Symphony's Summer Pops series – Every summer since 1983, locals and tourists gather for the annual Charlotte Symphony's Summer Pops, a series of outdoor orchestral concerts. It usually takes place on four consecutive Sundays every June, with one culminating concert held in celebrate of the Fourth of July.
The Morrocroft Manor – A remnant of SouthPark's past as a 3,000-acre farm, the Morrocroft Manor is a 14,000-square-foot Tudor Revival mansion where the Morrison and Harris families stayed until 1981. The whole farm was owned by former N.C. Gov. Cameron Morrison. The Morrocroft Manor, built sometime in the 1920s, is listed in the National Register of Historic Places. It's not open for public as the manor remains a private residence, but one can always drive by to admire the restored architecture of the mansion.
---
Homes for Sale in SouthPark, Charlotte, NC
Sorry we are experiencing system issues. Please try again.