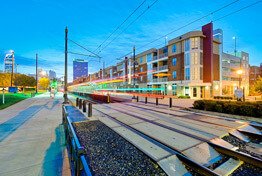 Locals often recommend these four neighborhoods for those who are looking for a slice of historic Charlotte.
South End and Dilworth – Living in Charlotte, NC
The South End / Dilworth area is located south of the Uptown neighborhood and is known throughout the whole Charlotte as the place to get a taste of fine food and local craft brews. Street-smart foodies will especially love the area's growing number of breweries and food trucks. Dilworth is also known as Charlotte's original "streetcar suburb." Both areas offer a plethora of real estate options, with the population estimated to be around 12,600.
South End and Dilworth – Charlotte Neighborhoods
These neighboring districts offer a diverse array of housing options, perfect for more adventurous home buyers looking to explore a variety of real estate. Both South End and Dilworth offer Bungalow-style homes and well-appointed apartments available in different price points. As historic areas of Charlotte, South End and Dilworth is also home to an array of turn-of-the-century historic homes.
Some of South End's old mills and warehouses have been converted into chic loft spaces and upscale condominiums that completely redefine city living in Charlotte.
Attractions
East Boulevard– Explore Dilworth's East Boulevard and discover a plethora of dining establishments, specialty boutiques, and art galleries.
South End Trolley Museum–Dilworth may be the oldest streetcar suburb in Charlotte, but the oldest surviving streetcar in the city can be found in South End. Streetcar #81 is fully restored and still pumping, ready to take visitors on a memorable ride.
---
Homes for Sale in South End, Charlotte, NC and Dilworth, Charlotte, NC
Sorry we are experiencing system issues. Please try again.