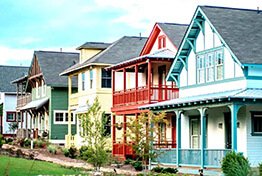 A well-known suburb of Charlotte, the communities of Fort Mill and  Tega Cay are actually located outside North Carolina. Just a short drive away from the city, Fort Mill and Tega Cay are located in the northernmost part of neighboring state South Carolina. Think of it as living with the best of both worlds — locals enjoy close proximity to the delights of Charlotte and the comforts of their own home state.
Located along the I-77 corridor, Fort Mill is considered as one of the most attractive and fastest growing towns in South Carolina. The atmosphere is warm and inviting — one can easily set up shop in Fort Mill and live like a local in no time. The economy is thriving; homegrown businesses are abundant, standing proudly alongside tall corporate offices of Fortune 500 companies. As of 2014, there are currently about 13,000 people living in this town.
Tega Cay, located within the Fort Mill township, boasts the same amenities in Fort Mill with the addition of stunning lake access. Just 16 miles away from Lake Wylie, Tega Cay offers lakeside retreats and a wealth of recreational opportunities to keep boredom at bay. Small-town Southern comforts can easily be enjoyed, as Tega Cay is home to approximately 9,000 residents.
Fort Mill and Tega Cay, SC Real Estate
Homes in Fort Mill and Tega Cay come in a wide range of price points to suit every type of home buyer out there. The most affordable real estate in the area can begin around $80,000, with some of the most expensive options going well beyond $1,000,000.
Some of the housing options available in Fort Mill and Tega Cay include single-family residences, townhomes, apartments, condominiums, and luxury real estate. Golf course properties are available, as well as lake homes in Tega Cay. For those who are looking for the perfect place to build their dream home, Fort Mill and Tega Cay also offer vacant land scattered throughout the area.
Attractions
Tega Cay Golf Club – Known as the premier golf course in the area, Tega Cay Golf Club is home to a fine 27-hole golf course — the only one of its kind in the region. Tega Cay's golf course has been consistently named as one of the best courses in the Charlotte area. A 14,000-squaare foot Clubhouse is located within the grounds, fully equipped with a golf shop, a separate grill, a private dining area, and a restaurant. Next to the clubhouse is the 23,000-square foot Glennon Community and Conference Center; a popular venue for business meetings and social gatherings.
Lake Wylie – Straddling the states of North and South Carolina, Lake Wylie is a man-made lake with a surface area of approximately 13,400 acres. Water activities reign supreme, of course, but for those who are nursing a craving, Lake Wylie's shoreline is dotted with a variety of dining establishments.
Anne Springs Close Greenway – Encompassing over 2,100 acres, the Greenway is home to a 1940's dairy barn, 200-year-old cabins, a suspension bridge, and approximately 40 miles of trails for biking, hiking, and horseback riding, among others. Visitors can take a guided tour or participate as a volunteer to explore the area.
---
Homes for Sale in Fort Mill and Tega Cay, SC
Sorry we are experiencing system issues. Please try again.