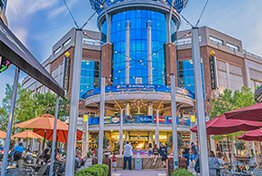 Trends come and go, but the upscale district of Ballantyne remains as one of the top choices of places to live in Charlotte. Home to approximately 68,260 people, Ballantyne offers a myriad of urban adventures to explore and experience. Residents enjoy a high quality of life, with hundreds of great shopping, dining, and entertainment options. Another reason why Ballantyne is attractive among home buyers is that it's as if it is a city of its own — the district is home to the headquarters of companies such as MetLife, SPX, and  Snyder's-Lance, making career opportunities plenty in the area.
Ballantyne is a young district — it was borne out of humble farmland back in the early 1990s, and encompasses a total area of about 2,000 acres in south Charlotte. The Bissell and Harris families originally owned this tract of land, and later developed the community into the master-planned district known today.
Several major thoroughfares and corridors are located near Ballantyne, particularly the I-485 Beltway, making access to other highways such as I-85, I-77, and even South Carolina easier from the district.
Ballantyne Real Estate and Homes for Sale in Ballantyne
Ballantyne, Charlotte, NC – Neighborhoods in Charlotte, NC
Aside from its growing business climate, Ballantyne draw plenty of home buyers from all over the country because of its great real estate offerings. Available in a wide range of price points, home buyer can choose among single-family residences, condos, apartments, townhomes, and sprawling luxury real estate.
Single-family residences in Ballantyne come in a variety of styles, from charming cottage-homes to well-appointed, million-dollar mansions. Luxury townhomes are also scattered throughout the area. For home buyers looking for an active adult lifestyle, Ballantyne is also home to several neighborhoods that offer a plethora of amenities.
Perhaps the main reason why so many home buyers flock to Ballantyne is the pursuit of the country club lifestyle, which they can easily achieve in Ballantyne. The district is home to several country club communities, the most popular being Ballantyne Country Club.
Attractions
Ballantyne Corporate Park – There's more to life than corporate work at the Ballantyne Corporate Park. Home to several Fortune 500 and Fortune 700 companies, this 535-acre master-planned business community also offers recreational opportunities to achieve the perfect work-life balance. Putting greens, pocket parks, a fitness trail, and an extensive walking path are found within the corporate park, free to use for locals.
Ballantyne Country Club – A family-friendly, members-only club, the Ballantyne Country Club offers a plethora of upscale recreation best enjoyed with family and friends. Here, children can learn how to play tennis and golf while their older counterparts play to their hearts' content. The Ballantyne Country Club is also home to a fine golf course designed by Rees Jones, open for all skill levels. Practice facilities are also located within the grounds, such as hitting stations, a short game area, and practice putting greens.
The Golf Club at Ballantyne – Located within the prestigious Ballantyne Hotel, the Golf Club at Ballantyne is home to a championship PGA course open to the public. Golf lessons are offered, as well as overnight golf packages and outings. It is renowned as one of the best golf facilities in Charlotte.
---
Ballantyne Homes for Sale
Sorry we are experiencing system issues. Please try again.